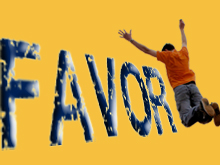 A
leap year
is a year in which an extra day is added to the calendar in order to synchronize it with the natural seasons. It is a shift that moves our measurement of time into harmony with the cosmos.
In Scripture there are two kinds of time. One,
kronos
, is linear and measured on the calendar in days, hours, and years. The other,
kairos
, speaks of seasons. It is a quality of time—God's opportune moment that is outside of our linear framework. It is the time God refers to as His "set time." Psalm 102:3 says, "You will arise and have mercy on Zion; for the time to favor her, yes, the set time, has come." Galatians 4:4 says, "But when the set time had fully come, God sent his Son" (NIV). Kairos is the opening through which the arrow of God's favor flies from heaven to earth and makes a shift.
This year is your spiritual leap year. God is about to shift your calendar, your circumstances, and your personal history into synch with His season of favor! This is a prophetic picture for us individually, and it is a picture of what God wants to do for His Church corporately. Don't look at the natural circumstances or the date on your "calendar." We are going to leap into favor in 2012.
Psalm 18:28-29, "For it is you who light my lamp; the Lord my God lightens my darkness. For by you I can run against a troop, and by my God I can leap over a wall." When God's favor comes, the impossible becomes possible. Things we can't do in our own strength, God gives us the power to accomplish. Doors that have been shut open supernaturally. Enemies that have opposed us, scatter, and their plans for harm launch us into greater blessing. This year will be full of challenges, but we are going to see God's people jump over every wall, and advance against every troop. As we make the LEAP, God's power will come to bring us into clarity, prosperity, victory, and destiny. This is God's year to act!
Part 1: Leap into Recovery
This is your kairos time to LEAP into recovery of stolen inheritance, spiritual justice, and material increase. Jacob's flocks multiply to recover all that Laban cheated him out of after God gives him a dream and showed him how to get wealth: "And He said, 'Lift your eyes now and see, all the rams which leap on the flocks
are
streaked, speckled, and gray-spotted; for I have seen all that Laban is doing to you'" (Gen. 31:12). A supernatural strategy and the favor of God gave Jacob his kairos opening to advance from servitude to prosperity and liberty.
At the same time, God dealt with Jacob's character as he had reaped something of what he had previously sown in getting Isaac's blessing, traditionally reserved for the elder brother. Not only did God prosper Jacob, He changed his identity from thief to inheritor, which had been God's intention from the beginning. After that God identified Himself as "the God of Jacob." He ordained the new man to be the father of the lineage that would forever become known by his new name, the nation of Israel. Isra-El literally means, to contend with God. Jacob's transformation is confirmed by his unrelenting faith displayed in his struggle with the Son of God, preincarnate, at the Jabbok crossing. Jacob displayed how greatly he valued the blessing and thus his nature as an heir fit to steward it.
Additionally, we see the character of Christ in him as he approaches Esau in humility. He carries an attitude of laying down his life toward his brother, thus reconciling him to himself and giving payment to seal the deal. It is therefore no surprise Song of Songs recalls that event as depicting the one that captures the affection of the king as bride. Jacob began his hero's journey in darkness, the Shulamite recognizes her own shortcomings for receiving highest favor but goes on to capture the Bridegroom's heart. Just so, Jacob becomes the highly favored one.
Jacob's story is a story of exile and return, a story similar to all of ours. There are days when we can all identify with Jacob the trickster, with Jacob the struggler, with Jacob the thief; grasping for things, striving for things, doing the very thing we don't want to do. But our divine Advocate is also mercifully the divine Adversary of every shadow or kind of turning that would try to rob us, trick us, or cheat us out of our full inheritance. His favor is surrounding us like a shield.
ACTION:
"How awesome
is
this place! This
is
none other than the house of God, and this
is
the gate of heaven!" (Gen. 28:17).
This is your kairos moment. The gate of heaven is open for the shift from your natural abilities to God's supernatural season of favor, blessing, and promised inheritance. He is bringing His people into their inheritance. Declare the year of God's favor today. Declare His supernatural wisdom, strategies, and grace to prosper, increase, and return to you all the enemy has stolen. Declare your leap into favor.
Prayer:

Lord, I thank you for Your Presence. Let Your Presence come as I LEAP into your super-abundant blessings for me, my family, my church, and nation. I thank you that this is the set time for return of the lands, possessions, and inheritance that have been stolen. I declare the set time of favor for my children, and grandchildren, that they would walk in the destiny You have for them. I pray for Your year of favor over America. Pour out Your Spirit that the heritage of godly foundations, blessing, liberty, and prosperity would once again define this land and people. Thank You Father for Your divine favor and justice in this coming year. Amen.